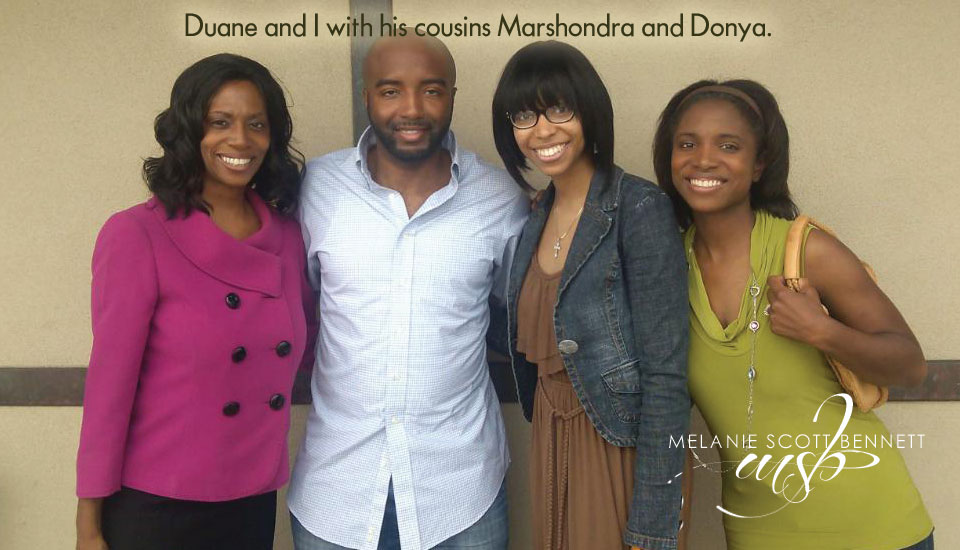 Match Made in Heaven
If you've kept up with my story thus far, you are aware that there is no cure for the type of leukemia I have [ALL Ph+] and according to my doctors, my best chances of surviving require me to undergo a Bone Marrow Stem Cell Transplant (BMSCT). During my first appointment with my new doctors at the IU Simon Cancer Center, I was met with hopeful news that they may have found a match for me. I was so excited because none of my siblings were a match and finding a non-related donor match for minorities was like playing the lottery. You have about a one in a million chance of it hitting. At that time I was scheduled to undergo my third round of chemo, but my doctors were okay with delaying it a few weeks. Chemotherapy was not the preferred method of treatment anyway since it would not provide a cure, so my doctors were anxious to get me to transplant as soon as a match could be found. However, my hopes were quickly dashed a couple of weeks later when I found out that after secondary testing, the person was not a match. Just in case you are totally lost as to what all this means, here is a quick overview.
Stem cells are found in bone marrow, a spongy tissue inside the bones. Stem cells develop into the three types of blood cells that the body needs:
Red blood cells, which carry oxygen throughout the body
White blood cells, which fight infections
Platelets (PLATE-lets), which help the blood clot
Small numbers of stem cells also are found in the blood and in the umbilical cord (the cord that connects a fetus to its mother's placenta). A BMSCT is a procedure that replaces a person's faulty stem cells with healthy ones. Below is an illustration of what doctors are looking for in an adult donor match. This is slightly different if an umbilical cord blood is being used.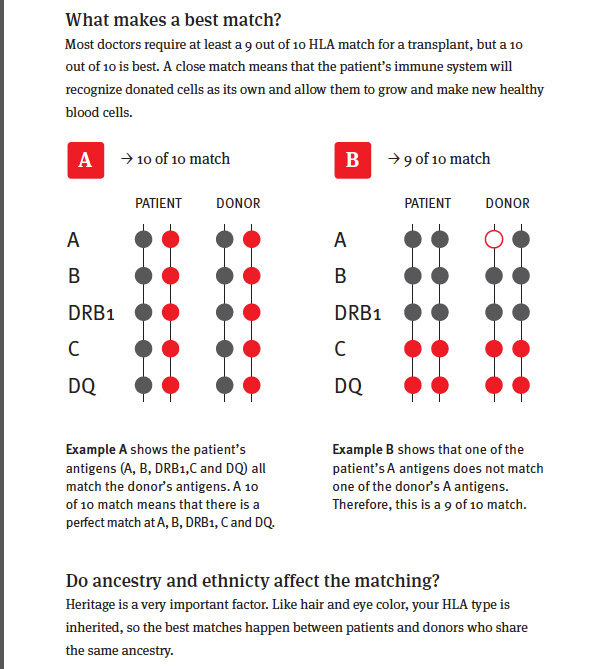 On May 6, 2013, I underwent my third round of chemo, one of the toughest rounds to date. I prayed so hard that God would send me a match or just heal my body instantaneously because I couldn't keep going through this. I knew that He could, but I just wasn't sure if He would. Then I read the story in Matt. 15:22-28 about the woman with the demon-possessed daughter and I marveled at the woman's faith.  The woman had seen Jesus perform miracles so she obviously knew He could heal her daughter. However, her faith was not in whether Jesus CAN heal, but rather if Jesus WILL heal. This woman knew she was undeserving of a blessing, but her faith that despite who she was (a Cannanite woman), He would still bless her – that's what stood out to Jesus. Many times our guilt, insecurities or fears will inhibit our faith because even though we believe God can, we don't believe that for us He will (because of who we are, what we've done, etc). But, this kind of thinking doesn't line up with the Word of God. Mark 11:24 [NKJV] says "Therefore I say to you whatever things you ask when you pray, believe that you receive them, and you will have them."  John 14:13 [NIV] says "And I will do whatever you ask in my name, so that the Father may be glorified in the Son."  The woman's bold faith that God WILL is what made her daughter whole. I decided that if a Cannanite woman could have faith that not only God CAN but that He WILL, surely I, who was a child of God, could activate that same level of faith.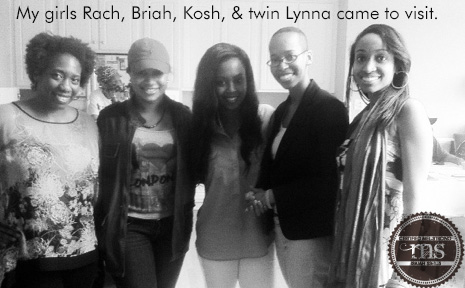 I was scheduled to receive my fourth round of chemo on June 3, 2013, but I was still feeling extremely weak from the third round and asked my doctor for one more week to recover. I was informed that again they may have found a match for me, so my docs allowed me to rest for another week while they did secondary testing. About a week later the nurse called me and said that the adult donor was not a match but they found an umbilical cord that was a match!! There were more than enough ounces of stem cells left on the cord to do the transplant and it was 96% viable (meaning that after the freezing process, 96% of the stem cells could still be used). I immediately started thanking God! There was no one on earth who matched me, so He caused someone to be born so my life could be saved! I challenge you today that if you activate your faith, the God who CAN, WILL do it! He is a miracle working God!
I am scheduled to start the transplant process, Mon. July 8. Keep me in your prayers!
-MEL-STRONG