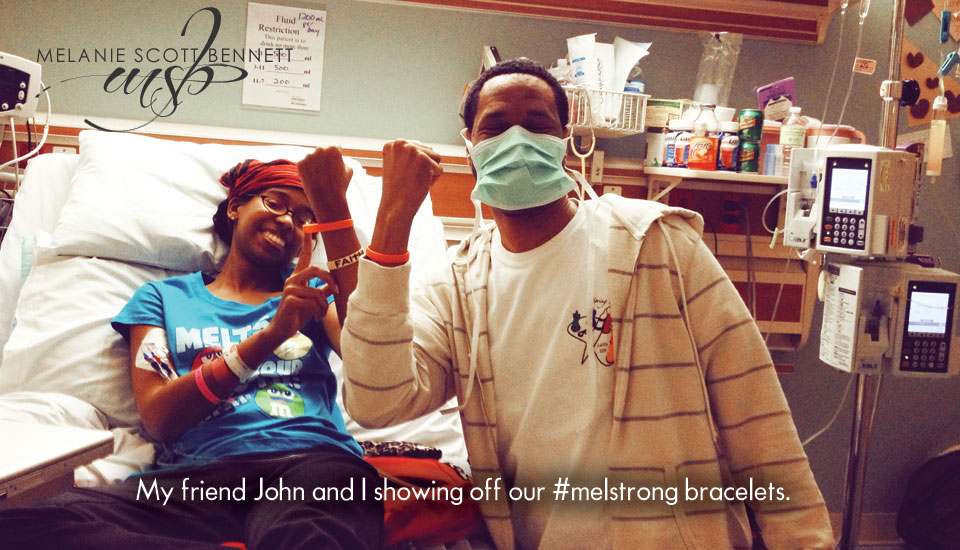 The Diagnosis Part II
Life for me changed dramatically after my diagnosis with Acute Lymphoblastic Leukemia (ALL) in January 2013 (read full story here). For the first time since I was fourteen, I was not working. People who are close to me know that I have trouble sitting still. I like to do a million things all at once, so I knew that this was going to take some adjustment. Not to mention that I'm one of those people who LOVES what I do for a living. So, of course, my first question was when can I get back to my life? I was hit with a pretty massive blow when the docs told me it wouldn't be anytime soon. This didn't make any sense to me because I was in remission after my first round of chemo (PRAISE GOD!). Remission means that there are no signs of leukemia cells in my body. This was a true miracle because for many people it takes several rounds of chemo to obtain remission, but I had it after only one!
However, oncologists (cancer docs) have found that with my type of leukemia, the cancer cells have a tendency to hide and will inevitably come back so I would have to undergo seven more rounds of chemo to keep the leukemia in remission. In addition, there were still traces of something called a "philadelphia chromosome" present in my body. (Briefly, the philadelphia (Ph) chromosome is a piece of chromosome 9 and a piece of chromosome 22 that break off and switch places with each other. This type of damaging genetic mutation is called translocation and results in the production of an abnormal enzyme that causes cancer cells to grow uncontrollably). From a medical standpoint, the good news was that I could take a pill to suppress the Ph chromosome. The bad news was that there is no cure for this genetic mutation and essentially I would need a bone marrow transplant in order to survive.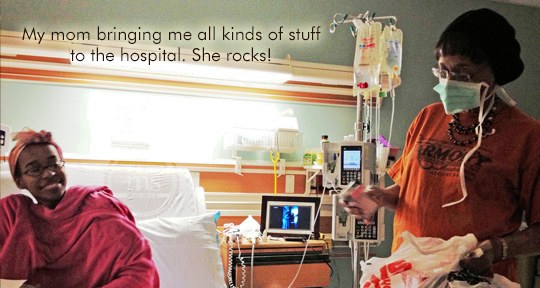 This was all news to me. It took a long time to digest what this all meant, but I quickly got a crash course in genetics, leukemia and bone marrow transplants (BMT's). Four of my seven siblings were tested to see if they would be a BMT donor match for me since there is a 25-30% chance that siblings will match. Much to my dismay, none of them were matches. As I started my second round of chemo, my doctor's began the search for a donor match for me through the National Bone Marrow Registry. Things weren't looking very good though because minorities are underrepresented on the Registry. Therefore, it is very difficult to find a match for African Americans. At this point doubt began to creep in. I didn't understand why God would bless me with all of these siblings and none of them would be a match. I just knew that He was going to perform a miracle through one of my siblings. My first mistake was thinking that I could comprehend the mind of Christ. My second mistake was limiting God's miracle working power to the small box of miracles my small mind could conceive. I began crying out to the Lord and he led me to Psalms 46:10. I immediately commanded my mind, body and spirit to BE STILL and KNOW that He is God!
I began to stand on God's Word. Modern medicine could only do so much, but I serve a God who is able to make the blind see, the lame walk and the dead come to life! He had already told me that I had the victory so I pushed doubt to the side and activated my faith. If He did it before, He could do it again! My second round of chemo went so much better than my first round and I was released from the hospital after only 14 days! The miracles don't stop there though. After the second round of chemo, my biopsy showed that I was still in complete remission from the leukemia and molecular remission as well which meant that with the smallest microscopes they had, they could not find remnants of the Ph chromosome! I'm a living witness that you will be tested, but you MUST hold on!
-Mel-Strong